CeSCoS Lecture Series
Solidarity in Times of a Pandemic: Insights from a Large Scale Qualitative Research Project in Europe and Latin America
June 12, 2023 5:30-7:00pm
Developing an ethics of care for provisioning in crisis: Grocery shopping during Covid-19
Speaker: Susi Geiger (College of Business, UCD Dublin & SolPan Ireland lead)
Moderation: Christian Haddad (University of Vienna, SolPan Austria)
Format: Hybrid - Audience can attend in person or online via Zoom
Meeting ID: 685 9777 3257
Passcode: 644805
Location: Conference Room IPW (A 0222), NIG 2nd floor, Universitätsstraße 7, 1010 Vienna
Past Lectures
May 8, 2023 5:30-7:00pm
Die COVID 19 Krise als Scheideweg ? Eine Querschnittsbetrachtung und der Fall der Corona Proteste in Österreich
Speakers: Emma Dowling (Institute of Sociology, University of Vienna) and Antje Daniel (Institute of Development Studies, University of Vienna)
Moderation: Karin Liebhart (IPW, University of Vienna)
Format: Hybrid- Audience can attend in person or online via Zoom
Meeting ID: 685 9777 3257
Passcode: 644805
Location: Conference Room IPW (A 0222), NIG 2nd floor, Universitätsstraße 7, 1010 Vienna
March 20, 2023 5:00-6:30pm
Don't Waste the Crisis: Implications of the COVID Anthropause for human environment relations
Speakers: Amelia Fiske (Institute of History and Ethics in Medicine, Technical University of Munich, SolPan
Germany) and Consuelo Fernández Salvador (Universidad San Francisco de Quito, SolPan + Ecuador)
Moderation: Isabella Radhuber (SolPan + Latin America lead)
Format: Online via Zoom
Meeting ID: 685 9777 3257
Passcode: 644805
January 30, 2023 5:00-6:30pm
Solidarity in transnational collaborations: Conducting meaningful qualitative research across 10 European and 12 Latin American countries
Speaker: Alejandro Pelfini (Universidad del Salvador &
FLACSO Argentina; SolPan + Argentina)
Discussants: Gertrude Saxinger (IPW University of Vienna, SolPan Austria co lead) and Isabella Radhuber (IPW University of Vienna, SolPan + Latin America
lead).
Moderation: Katharina Kieslich (IPW, University of Vienna, SolPan Europe co lead)
Format: Hybrid - Audience can attend in person or online via Zoom.
Meeting ID: 685 9777 3257
Passcode: 644805
Location: Conference Room IPW (A 0222), NIG 2nd floor, Universitätsstraße 7, 1010 Vienna
19 October 2022, 17:00 | online
Book talk: "The Next Shift: The Fall of Industry and the Rise of Health Care in Rust Belt America""
Lecturer: Gabriel Winant (Chicago)
Chair: Emma Dowling (Department of Sociology, University of Vienna)
Abstract:
Pittsburgh was once synonymous with steel. But today most of its mills are gone. Like so many places across the United States, a city that was a center of blue-collar manufacturing is now dominated by the service economy—particularly health care, which employs more Americans than any other industry. Gabriel Winant takes us inside the Rust Belt to show how America's cities have weathered new economic realities. In Pittsburgh's neighborhoods, he finds that a new working class has emerged in the wake of deindustrialization.
As steelworkers and their families grew older, they required more health care. Even as the industrial economy contracted sharply, the care economy thrived. Hospitals and nursing homes went on hiring sprees. But many care jobs bear little resemblance to the manufacturing work the city lost. Unlike their blue-collar predecessors, home health aides and hospital staff work unpredictable hours for low pay. And the new working class disproportionately comprises women and people of color.
Today health care workers are on the front lines of our most pressing crises, yet we have been slow to appreciate that they are the face of our twenty-first-century workforce. The Next Shift offers unique insights into how we got here and what could happen next. If health care employees, along with other essential workers, can translate the increasing recognition of their economic value into political power, they may become a major force in the twenty-first century.
Meeting-ID: 854 1348 9106
Kenncode: 865325
4 May 2022, 17:00 | online
Social policy, universal basic income, and public health
Lecturer: Marcia Gibson (University of Glasgow)
Chair: Barbara Prainsack (IPW)
Abstract:
Basic income is proposed as a response to changes in the labour market arising from increasing employment insecurity, automation, and more recently the Covid-19 pandemic. It is argued that making payments to all citizens would result in a more equal society and has the potential to improve population health. However, basic income is inherently difficult to evaluate and there are many gaps in the existing evidence. This talk will consider what the available evidence can tell us about the potential effects of a universal basic income, and whether universal payments are likely to be more efficient or equitable than those targeted at people in need. Alternative approaches to welfare state reform will also be considered.
4 April 2022, 16:00 | online
Book talk: "The warehouse: workers and robots at Amazon"
Lecturer: Alessandro Delfanti (University of Toronto)
Chair: Gerda Falkner (EIF / IPW)
Abstract:
'Work hard, have fun, make history' proclaims the slogan on the walls of Amazon's warehouses. This cheerful message hides a reality of digital surveillance, aggressive anti-union tactics and disciplinary layoffs. Reminiscent of the tumult of early industrial capitalism, the hundreds of thousands of workers who help Amazon fulfil consumers' desire are part of an experiment in changing the way we all work. In his book, Alessandro Delfanti takes readers inside Amazon's warehouses to show how technological advancements and managerial techniques subdue the workers rather than empower them, as seen in the sensors that track workers' every movement around the floor and algorithmic systems that re-route orders to circumvent worker sabotage. He looks at new technologies including robotic arms trained by humans and augmented reality goggles, showing that their aim is to standardise, measure and discipline human work rather than replace it. Despite its innovation, Amazon will always need living labour's flexibility and low cost. And as the warehouse is increasingly automated, worker discontent increases. Striking under the banner 'we are not robots', employees have shown that they are acutely aware of such contradictions. The only question remains: how long will it be until Amazon's empire collapses?
10 November 2021, 16:00 | online
Bezahlte und unbezahlte Arbeit nach Covid-19: Geschlechterspezifische Verteilung von Zeit und Arbeit in und nach der Krise (in German)
Vortragende: Katharina Mader (Arbeiterkammer Wien)
Moderation: Lukas Schlögl (CeSCoS)
Abstract:
Wie erging es Frauen und Männern in Österreich während den Ausgangsbeschränkungen durch COVID-19? Was bedeutet der Jobverlust oder der Umzug ins Home Office für die Verteilung von unbezahlter Arbeit? Welche psychischen Belastungen kamen dadurch zustande? Und was würde es brauchen, um das Arbeiten von zuhause gerechter zu gestalten?
Die im Zuge der COVID-19-Pandemie erlassenen Ausgangsbeschränkungen boten die einmalige Gelegenheit den Effekt von Home-Office-Arrangements auf die Verteilung unbezahlter Arbeit in Haushalten zu untersuchen. Home Office wird häufig als Mechanismus beschrieben, der Frauen die Vereinbarkeit von Kinderbetreuung und Beruf erleichtert. In diesem Vortrag werden die Ergebnisse einer Studie vorgestellt und diskutiert, die für Österreich untersucht hat, ob, und in welchem Ausmaß, das der Fall ist. Zur Erhebung der relevanten Daten wurde eine Online-Befragung durchgeführt und untersucht, wie sich Home Office auf die Verteilung unbezahlter Arbeit zwischen Frauen und Männern auswirkt. Die Ergebnisse zeigen, dass es dringend einer Umverteilung unbezahlter Arbeit in den institutionellen Bereich, aber auch zwischen den Geschlechtern bedarf.
Link zur Aufzeichnung: bitte klicken Sie hier (Kenncode: p4w8X4.c)
Virus, Values, Work: Debates about the Future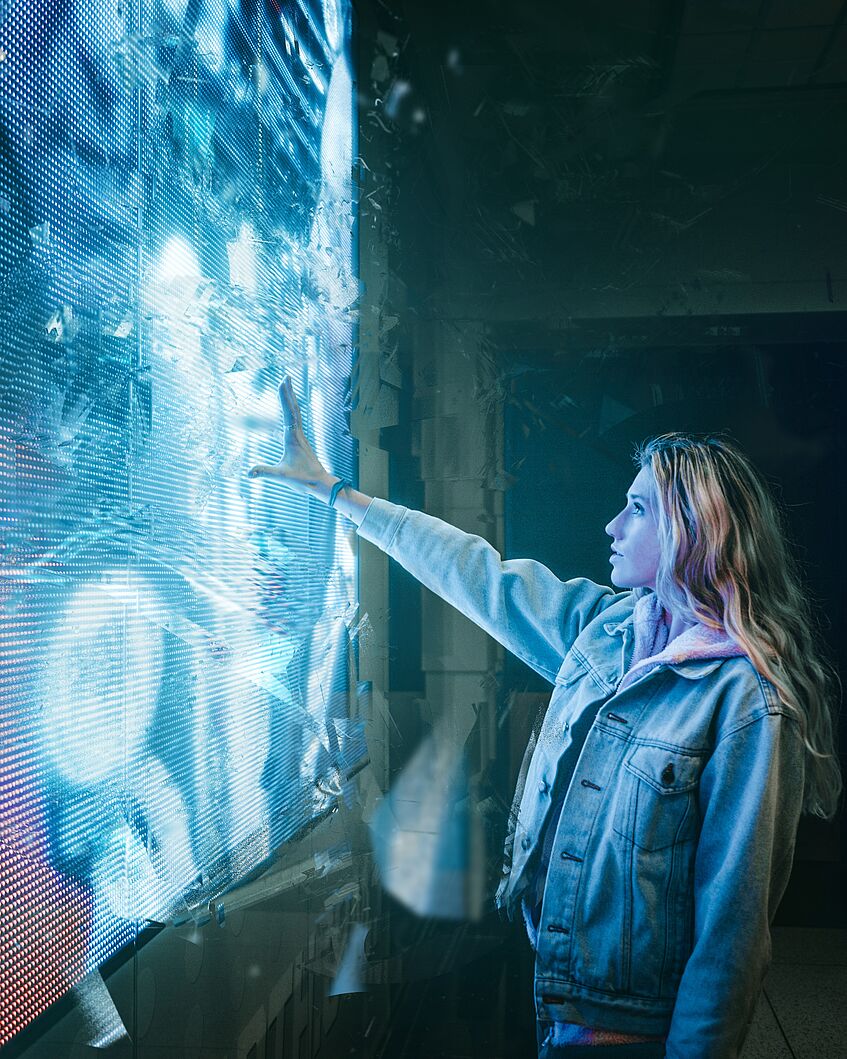 Virus, Values, Work: Debates about the Future
How are societies shaping the future of work? This is one of the pressing issues of our time. The Covid-19 pandemic has transformed the world of work through layoffs, furlough schemes, work-from-home practices and the reorganization of care work obligations. The pandemic has also, once again, put eternal questions about the value of work and its distribution centre stage.
In this years' lecture series, we will discuss how we (want to) work in different settings and configurations. We will debate how to achieve an equitable distribution of decent work and the value created through work. And, we will consider what the pandemic means for the long-term future of work.
---
This lecture series is organized by the Centre for the Study of Contemporary Solidarity (CeSCoS), as part of the IPW Lectures, an international lecture series of the Department for Political Science, University of Vienna.